Taskmgr.exe
File Path: C:\windows\SysWOW64\Taskmgr.exe
Description: Task Manager
Screenshot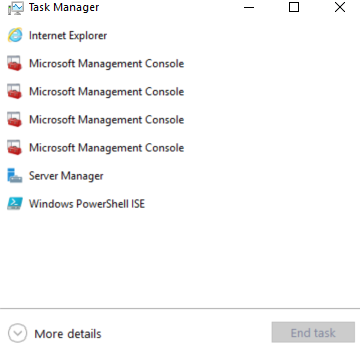 Hashes
| Type | Hash |
| --- | --- |
| MD5 | 9919D598108E8E449D98ABA2C43D2F20 |
| SHA1 | 4AA9BF6DF9F16DF19BBF5F6F67265F68F94B4880 |
| SHA256 | DE72DCB5E14F7D6A4B3E55B273A10A16C6DE77DBB7A6F8575EA14E52AA58583C |
| SHA384 | 2DF9DD8F0CADE60487904BB0792C0BFB721D1D85481C93A99464DDE6C9644C8FBFBD590E9A7C25313A2A46D5D3703C9E |
| SHA512 | ADE8538DD91B230BFFF77DADBF7CDDA6A947A174CCE54E58AF2E6D0585CD921724859DA6E92289746D773FD58BC28E05EC6105255E8928DF13CDCD5656A1361E |
| SSDEEP | 12288:nB3FY4HweKPoLYtRRc3EB11N3JBdb2P2Rp7pkprpeK7BxE7q4BPE2:nB1pH8iSU0BhJrccSrAcBe7q4h/ |
Signature
Status: Signature verified.
Serial: 330000004EA1D80770A9BBE94400000000004E
Thumbprint: DF3B9B7E5AEA1AA0B82EA25F542A6A00963AB890
Issuer: CN=Microsoft Windows Production PCA 2011, O=Microsoft Corporation, L=Redmond, S=Washington, C=US
Subject: CN=Microsoft Windows, O=Microsoft Corporation, L=Redmond, S=Washington, C=US
File Metadata
Original Filename: Taskmgr.exe.mui
Product Name: Microsoft Windows Operating System
Company Name: Microsoft Corporation
File Version: 6.3.9600.16384 (winblue_rtm.130821-1623)
Product Version: 6.3.9600.16384
Language: English (United States)
Legal Copyright: Microsoft Corporation. All rights reserved.
Possible Misuse
The following table contains possible examples of Taskmgr.exe being misused. While Taskmgr.exe is not inherently malicious, its legitimate functionality can be abused for malicious purposes.
MIT License. Copyright (c) 2020-2021 Strontic.