Setup.exe
File Path: C:\WINDOWS\system32\DriverStore\FileRepository\netwew01.inf_amd64_d48428047ce3cc1e\Setup.exe
Description: Intel PROSet/Wireless Software
Screenshot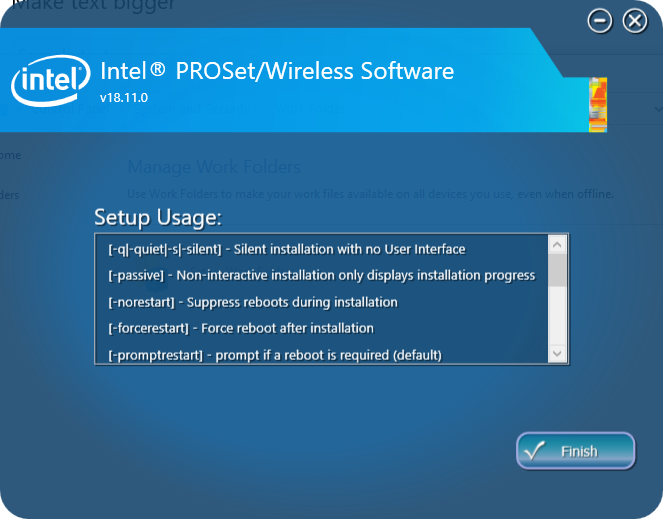 Hashes
| Type | Hash |
| --- | --- |
| MD5 | DE608134E33D3ABFFA944723ACD3E292 |
| SHA1 | 26FA39E2DBE001EB2F3DFD25685FD32363495A6F |
| SHA256 | A201756B24C7872F42FF71008B28DA0B10D0963E33F84395411125A27FD9C0DD |
| SHA384 | 2066AE0018F1F6EB2B8B757BD147594EFE0D3EAA76AE2EC8A4878A57491D3ADDB091B117345A1BA2E931B6AF73D8EE43 |
| SHA512 | CCDB39CF6D30CF5EA56B2A76EA2D4D2CB9B3271AFB15DD1BF7E78F33C2A130239CFEECD954C02409D2FAAE990AC3B973B884DC7AEB27E7CD1F1A0B5F65C6E776 |
| SSDEEP | 49152:TFmoJsL19tkT6ligMQTj0fMRdHUkA/pMVZjA:UoJgkgMCj/HUppURA |
Signature
Status: Signature verified.
Serial: 330000001DC31A761624754F8000000000001D
Thumbprint: 96C51247E27DAE45A1BCD582A0503256F9EAEDAC
Issuer: CN=Microsoft Windows Third Party Component CA 2012, O=Microsoft Corporation, L=Redmond, S=Washington, C=US
Subject: CN=Microsoft Windows Hardware Compatibility Publisher, OU=MOPR, O=Microsoft Corporation, L=Redmond, S=Washington, C=US
File Metadata
Original Filename: Setup.exe
Product Name: Intel PROSet/Wireless Software
Company Name: Intel Corporation
File Version: 18.11.0
Product Version: 18.11.0
Language: English (United States)
Legal Copyright: Copyright (c) Intel Corporation. All rights reserved.
Possible Misuse
The following table contains possible examples of Setup.exe being misused. While Setup.exe is not inherently malicious, its legitimate functionality can be abused for malicious purposes.
MIT License. Copyright (c) 2020-2021 Strontic.