IMESEARCH.EXE
File Path: C:\windows\SysWOW64\IME\SHARED\IMESEARCH.EXE
Description: IME search module
Screenshot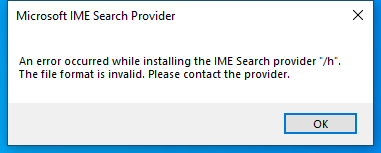 Hashes
| Type | Hash |
| --- | --- |
| MD5 | 4238CBE22DA0FFB3026A2279174F6CFB |
| SHA1 | E03DDA987F5F54C84651C4B34B1C1498BB4F854C |
| SHA256 | 1EB8C11D1201A3FEFC6CA4E5FE9DBA9DBEE93DD05CEE352CAD7B895F96712CFF |
| SHA384 | 91A3C03876FD12992A00413FDEE33F1258110E2A9DFD476115170269285A8CEB6485E2D0B6D3955D14FC136B56723E45 |
| SHA512 | 634FE177E703881A3DBAE99F9BFCF4E095185E217D5C1C770829628B5230CF4D88AADF579B85180A96C8A00678684A1B8D838243F727FE36B8E7C5E4442A1E09 |
| SSDEEP | 1536:fh+rSuBC0N2Oybx3r84tbx4r9nIRIWOIh71bxb3QoBT7DBQa9ukp66f:Z7uBk178Cbg9IRI0xb3QiTxlp6O |
Signature
Status: The file C:\windows\SysWOW64\IME\SHARED\IMESEARCH.EXE is not digitally signed. You cannot run this script on the current system. For more information about running scripts and setting execution policy, see about_Execution_Policies at http://go.microsoft.com/fwlink/?LinkID=135170
Serial: ``
Thumbprint: ``
Issuer:
Subject:
File Metadata
Original Filename: imesearch.exe
Product Name: Microsoft IME 2012
Company Name: Microsoft Corporation
File Version: 15.0.9600.17415
Product Version: 15.0.9600.17415
Language: Language Neutral
Legal Copyright: Microsoft Corporation. All rights reserved.
File Similarity (ssdeep match)
MIT License. Copyright (c) 2020-2021 Strontic.